I am back in London today I have been visiting 'Masters of Style' exhibiton in Somerset House. This exhibition in collaboration with Peroni represents the celebration of work of six iconic Italian brands: Giorgio Armani, Dolce & Gabbana (yes, leopard kings!), Salvatore Ferragamo, Gucci, Missoni and Prada. Although I was a little dissappointed not to see good old Versace which I admire (people call me a gypsy for that - but daaarling, do I care?!) and associate with one of the fundamental pieces in a great mosaic of Italian fashion, I still was impressed by the event: constant flashbacks of strolling through my mum's Vogue when I was little came to my mind as I saw the photographs of the most memorable advertising campaigns of the brands.
Starting with Signor Armani I would like to say that his designs might seem rather untraditional to the untrained eye, considering the term 'Italian style' as most think of it now: it features subtle colour palette, clean lines and precision cut. However, Armani was a pioneer in the early days of Italian fashion and his work and archeivements put the beginning to something that is formed and seems typical now. Armani's seductive allure is in sexyness that whispers rather than shouts. My favourites of the exhibiton are the works of Peter Lindbergh for Armani - his photographs often have cinematic approach to fashion and this designer is by far not the only one who likes to use this manoeuvre in his ad campaigns. The world of Italian cinema goes hand-by-hand with the world of Italian fashion: it is both highly emotional and colourful in the best traditions of Italy. Take Sophia Loren herself, who is constantly being used as a muse for not only Italian, but French and American designers - for femininity is truly coming back. Lingbergh's pictures look like they are stills from a romantic movie, and that is what I like about them. While Italian fashion's heroine is mouth-wateringly feminine - its hero is super masculine and brutal. Nevertheless, Italian man of style always stays elegant and sexy, dressed in high-quality leather - quite often crocodile, a slippery slope that can lead one to looking tacky, but never in Armani's case.
Next come Domenico Dolce and Stefano Gabbana who were rather different from their colleagues at the very beginning of their path, but accentuate the taste of a true Italian today. Sexiness for men and women are the designers' trademark. But it is not only bold seduction: it is delicate embroidery, finest silk, quality leather goods and suits for men cut with the highest precision - features that celebrities like Madonna and Kylie Minogue cherish so much that they commissioned their concert-tour wardrobes to the fashion duet. I found all D&G campaigns absolutely spectacular. Maybe because I am Russian, and Russian women are similar to the Italian ones in case of thinking as well as dressing - I don't know, but all photographs carry theatrical, cinematic, incredibly drawning approach to them, although most of them are in black and white. Domenico and Stefano's roots come from Sicily, where women are women. They dress in black, they like lace, they are sensual, religious and caring, although they are still somehow - real femmes fatales! D&G's obsession with leopard print comes from their inspiration by Luchino Visconti's film The Leopard, and this lavishness of baroque is carried until our days almost in every collection. Sometimes it is subtle - as a lining of a dress, occasionally peaking out; and sometimes its bold - in a leopard-print red-carpet gown.
The third part of the exhibition is allighted to Salvatore Ferragamo, one of the oldest fashion companies in the country. When I hear the name Ferragamo I think first about high quality, and then design - although the brand is surely rich with immaculate and glamorous collections that many iconic figures of the 20th century were loyal to. Ferragamo is about the high-calibre craftsmanship, the brand's goods last for years and years. Marlene Dietrich, Ava Gardner, Grace Kelly and Greta Garbo - some, but fare not the only Hollywood royalties that favoured quality of Ferragamo's shoewear. The brand's ad campaigns exhibited were those focused on the strongest sand most recognizable side of Ferragamo: leather goods and patterned silk scarves. Sergio Merli's photograph of iconic Vara ballerina shoes were my favourite. This model has been a best-seller over years, it is elegant, yet girly and young, although suitable for any age. Nude colour and the amount of shoes formed into immaculate lines highlights quality in the best Ferragamo's traditions. Or, take Aldo Fallai's work: a model's head wrapped in a big heavily-ornamented scarf, covering a half of her face. The accent on Italian Renaissance is made here - yet another show of loyalty to the old tradition and in some way, even patriotic reason behind the brand, which is beautiful in my opinion. Because only an Italian who loves his country is a true Italian.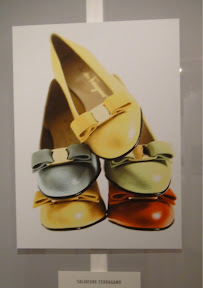 Once I came to an observation that French fashion makes a woman elegant, while Italian fashion makes her desirable. When I look at Gucci's work I realise that my observation is right. Fashion worl's favourite image - androgynous woman is something that has always been a different world to what Gucci represents. The fashion house's heroines are sexy graces, whether they wear thinnest leather, suede, fur, silk or chiffon. They have golden tan and luscious well-coloured hair. Businessmen's girlfriends, I called them when I was little. They stand tall and look down with icy glance: Gucci's fashion is for the highest of the world. A good proof of my words is Mario Testino's photograph of Georgina Grenville for the A/W 96-7 campaign - her body is elongated and sexy in a white column dress which is conservative, yet revealing at the same time with a cut-out part placed on the hip. Although the house of Gucci was established back in the 19th century, its designs are kept incredibly modern with a classic part to it. Frida Giannini keeps the tradition well, managing to make it desirable for young people tooby inviting on-high-demandfresh-faced models for campaigns like Freja Beha-Erichsen, Lily Donaldson and Natasha Poly.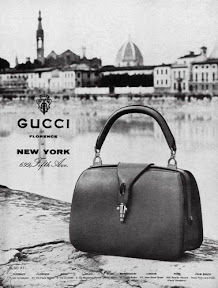 Going aside other numerous Italian family firms in fashion, Missoni is utterly exceptional. And I personally managed to reassure myself about it this month! A week ago in sunny Puerto Banus I walked into the boutique just out of interest (yes, I actually havent really ever been to their own shop before) anformalised that I've been a fool really because I wanted everything that hanged on the hangers, lay on shelves and was worn by mannequins. I used to think that perhaps, Missoni is a bit too much colour, as every pattern contains at out of at least three-four colours and me however, prefers monochrome with some splashes of it. But no, I was wrong, Margherita and her cool family manage to mix rainbow with elegant blacks, browns and beiges in order for it to not look lavish in Italian way, but give it a super-chick 70's wibe! Missoni is not just a business family, but a family that is a true clan, that is all about close bondsand domestic bonds. When you look at Missoni's designs you don't think about fierce and serious fashion world, but about an italian grandma, a nonna knitting a warm colourful sweater for her numerous grandchildren. And in fact, this is exactly what knitting and production of tricotage in general was associated with before. But come Missoni and it all changed in a whirl: from Kate Moss and Gisele Bundchen wearing those 'granny knits' to the becoming a fashion house with a hugely-respectful reputation and clientelle all round the world.
When I came up to the stands of the last but definitely not the least name in the fashion world - Prada, I went into thinking. What do I really know about the brand myself? Devil wore it. That's a start. Well, most of the women in the world want it, and the Devil in face of Meryl Strip made it even more desirable. Word 'Prada' itself is simple and pronounceable by any language. At least almost every I guess. Women in England, Germany, Sweden and Brazil ask their husbands and boyfriends for a 'Prada bag this Christmas, darling'. Or shoes. Forgetting their female rights and that they consider themselves eiders of feminism (apparently), they still want to be gifted with a Prada. Because it is forever. And also, because Louis is so passé. And women finally realised that more important is quality, not quantity. The now fashion house with originally a leather goods manufacturer, so no your bag will most probably last much longer than love. No offence. I hope they both last forever;) Miuccia endlessly changes and challenges statements, but the idea always stays the same, just for as long as the immortal leather goods will only age graciously: Prada is a mix of class and sensuality. It's heroines are not cold, untouchable and arrogant - they are the frail forest nymphs in high-heeled leather shoes and see-through embellished dresses.
I hope you enjoyed my report and didn't judge it too harsh:) Next will come 'The Glamour of the Gods' exhibition in London Portrait Gallery - I promise I won't bore you fash-kiddos!
- Posted using BlogPress from my iPad